By
admin
on April 13th, 2012
Ticker: GBHL
Exchange: OTCQB
Last Close: $0.102
Float: Only 2.1 Million

!
GBHL had a monster day, trading close to the current float of only 2.1 Million shares! With such a small float, prices can move wild and crazy just as we seen with our 3pm alert and traded as high as $0.31.
GBHL is our super low float long term play with mega potential – the line up is top notch and a 'blockbuster' film company to be.
With faces like Kevin Spacey, Jim Carrey, and Ashton Kutcher to name a few, GBHL is ready to make a major breakthrough that is being called the next Lions Gate of Entertainment.
The Next Lions Gate of Entertainment
No doubt today's high price of $0.31 a 464% jump is HUGE but that's what low float solid companies like GBHL can do and once the company unleashed more updates on their monster line-up of talent – prices can jump just as crazy.
GBHL closed at only $0.102 on 2.0M shares traded, that's close to the total amount of float definitely shifting shares into the hand of solid long term investors ready to make some serious gains.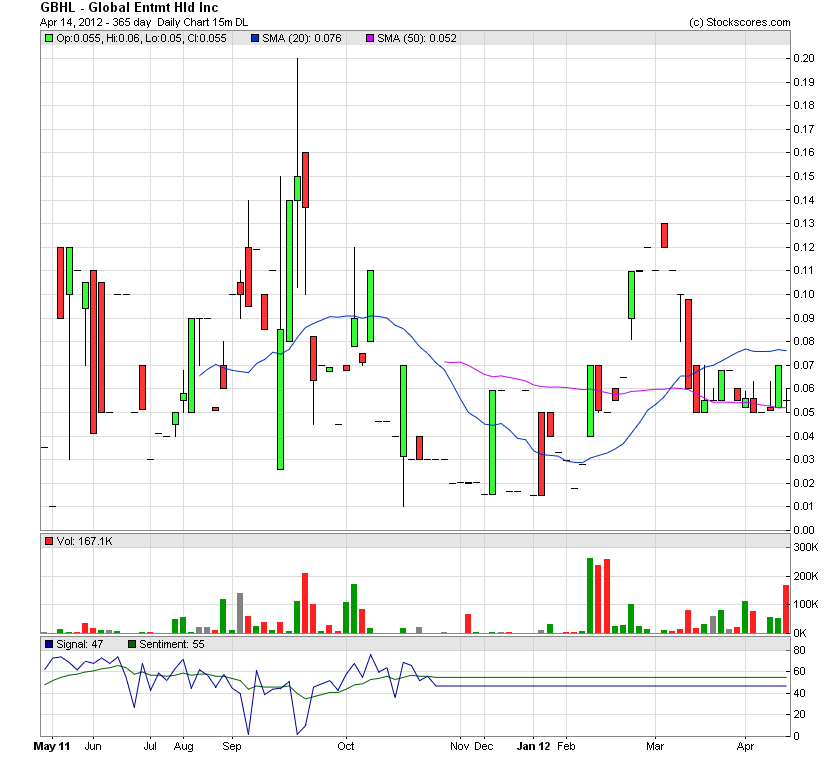 GBHL line up is about to get much bigger!
Visit GBHL's subsidiary websites:
~ Global Universal Entertainment US Productions
~ Global Universal Pictures Canadian Productions
~ Global Universal Film Group Sales and Distribution
~ American Sunset (the movie)
~ Plaster Rock (the movie)
~ Mr. Pink (the movie)
~ The Night (the movie)
Social Networks:
ABOUT Global Entertainment Holdings Inc.
Global Entertainment Holdings Inc., a publicly-traded Company on the OTC, Symbol: GBHL, is engaged in the production of low-budget, high quality, genre pictures with recognizable name talent. Global Entertainment Holdings employs a financing strategy designed to significantly mitigate investment risk utilizing tax incentives, distribution advances and/or pre-sales, gap financing, economies of scale inherent in back-to-back film production and deferment of our production fees.
GBHL, the Parent Company, generates revenues through its subsidiary operations. U.S. operations are handled through two, wholly-owned subsidiaries: Global Universal Entertainment (GUE) is engaged in U.S. film production, and Global Universal Film Group (GUFG) manages distribution and sales representation of films worldwide for content produced by the subsidiaries, as well as by other filmmakers. Canadian film production operations are handled by Global Universal Pictures (GUP), a 30% owned affiliate of the company. Please view this document HERE.
Global Universal's CEO, Gary Rasmussen, has a long and extensive history of successfully organizing and developing companies in several different industries, including ventures in the motion picture business.
Daniel Crown, the former chief executive of Crown theaters, stated recently, "If you can find the right film executives, people who consider themselves fiduciaries more than producers, it's one of the best bets you can make right now." In this regard, Global Universal's Management Team is comprised of that "perfect blend" of film entrepreneurs, movie business executives and "hands-on" film producers. The Presidents of the Canadian and the U.S. production subsidiaries, Jackie Giroux and Peter Liapis respectively, have a lifetime of knowledge, tenacity and experience in writing, developing, producing and distributing motion pictures and television content.
Keep your eyes peeled for the latest updates on our twitter page, facebook page, and our website at http://www.xtremepicks.com.
Xtremepicks.com your trading connection and remember to always do your own research, use stop loss orders to protect yourself, and book your profits when in a position to do so.
Xtremepicks.com profiles are not a solicitation or recommendation to buy, sell or hold securities and is not offering securities for sale. Xtremepicks did not receive any compensation for GBHL and may be buyers in the open market. Verify all claims and do your own due diligence. An offer to buy or sell can be made only with accompanying disclosure documents and only in the states and provinces for which they are approved. Click here to view the full disclaimer
Xtremepicks.com 2009