By
admin
on June 06th, 2010
Hello xtremepicks.com members
The markets continue to sell off, the threat of war in Korea is very real, Europe is a mess and the devastation in the Gulf of Mexico is absolutely awful. Never fear xtrempicks is here and we are using the added volatility and uncertainty to book some awesome gains.

In our never ending search to find the next "BIG THING" the team at xtremepicks has found a company at ground zero in the Gulf. They are selling their products directly to BP to help contain the damage that has been done.
The company all members need to look at is MOPN – MOP Environmental Solutions, Inc


MOPN Settled out Fridays session at  $0.079 even for the day on just under 700K shares traded.

Technically this play has everything we could ask for. A high volume breakout followed by nice sideways consolidation paired with a firm bullish uptrend supported by key moving averages. As pretty as this chart looks it is not what drew us to this pick ……..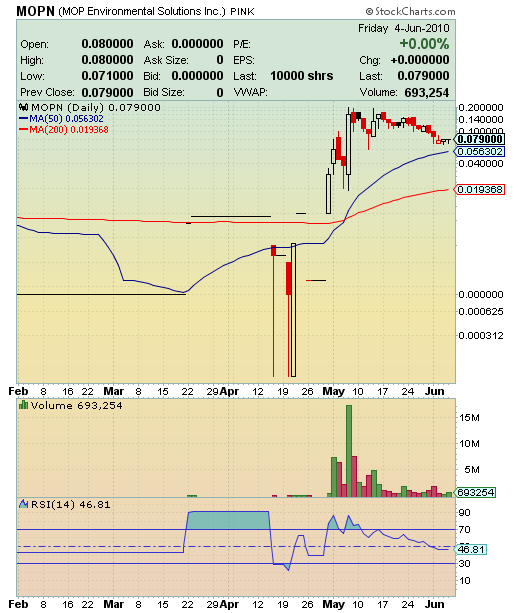 Just after the closing bell rang on Friday MOPN announced they have received a Purchase Order from BP to send oil spill absorbent booms to the Gulf of Mexico for the ongoing oil spill clean up efforts. This is the first of what potentially will be many multiple orders for MOPN and some high multiple returns for their shareholders.
BATH, NH–(Marketwire – 06/04/10) – MOP Environmental Solutions, Inc. (Pinksheets:MOPN – News) is very pleased to announce it has received a Purchase Order from BP to send oil spill absorbent booms to the Gulf of Mexico for the ongoing oil spill clean up efforts. As per the Purchase Order, MOP Environmental will provide BP with three tractor trailerloads of booms to be shipped to the Hope Dale Site staging area in Saint Bernard, Louisiana.
Upon fulfillment of this order, additional deliveries are anticipated to continue on a weekly basis. With the present conditions in the Gulf we believe that BP will be looking to accept as much as we can provide.
"While we are very excited to have a purchase order from BP, the challenge of such a purchase order," said Diamond, "is that BP makes its payment 30 days after delivery. In the meantime we are hustling to raise additional funds to meet demand for increasing our supply. At the same time we are also working on raising additional capital to expand our plant and/or to purchase an additional facility. We anticipate that we will continue to experience the challenges of growth in the coming months and foreseeable future."
To meet the capital requirements, MOP Environmental is currently reviewing several offers to provide funding for the needed expansion for additional plant, equipment, labor and floor space.
ABOUT MOP ENVIRONMENTAL SOLUTIONS, INC.
MOP Environmental Solutions, Inc. (MOPN) is a publicly traded company. MOP Maximum Oil Pickup is a "cradle-to-cradle" green product that is arguably the most effective oil spill recovery system on the market.
BRIEF DESCRIPTION OF THE MOP TECHNOLOGY:
MOP Maximum Oil Pickup is an aggressive oleophyllic and hydrophobic (oil attracting and water repelling) sorbent made from recycled and fully biodegradable materials, manufactured using small-scale hydroelectric green energy. MOP's properties are such that it can effectively deal with an oil spill the size of the Exxon Valdez, but is equally effective at cleaning up the oil spill off a garage floor.
Regarding the gulf oil spill: Our patented product MOP Maximum Oil Pickup can capture and contain the oil spill at its source and at all locations out to its furthest perimeter including the marshlands and beaches. Where the oil has landed on beaches or land it will separate and remove the oil from the soil or sand on site quickly. Our oil-only pickup product is called MOP Maximum Oil Pickup. MOP floats, is all natural, it is safe to the environment, birds, animals and aquatic life. It is rapidly deployed at over 150 mph using our MOP-Cannon and removed using our MOP-Vac. MOP is applied above water or below water where it floats up and locks the oil, completely neutralizing all potential harmful effects of the spilled oil. This is the only known oil recovery method that will work under all weather conditions. The oil can be retrieved for re-use where the resulting profit is greater than the expense of cleanup.
The MOP website is www.MOPEnvironmental.com
MOP Environmental Solutions, Inc. manufactures and distributes MOP® Maximum Oil Pickup. MOP picks up and recovers oil spilled on land and/or water. This revolutionary, 100% Recyclable, new absorbent material picks up to 30 times its own weight in oil, without absorbing water, restores traction on slippery surfaces, and safely restores a clean, natural environment.
MOP Environmental Solutions, Inc. is a public company traded on the Pink Sheets under the symbol MOPN. For information see www.mopenvironmental.com.
The action on Monday is going to be terrific. As much as we love the weekend deep down we are anxiously waiting for Mondays opening bell to ring so we can pick up a little MOPN.
Stay tuned to Xtremepicks.com your stock trading connection!
As always make sure you do your due diligence on alerts, tweets and stock picks.